Style House-Finding Silver Pennies
Hi City Farmhouse readers! I'm so excited to be here! I'm Danielle and my blog, Finding Silver Pennies, where I share our creative life on the coast. I paint most things, craft, cook and search for treasures along the shore and in antique shops.
My home is very full of painted furniture, treasures from the sea and love for my family: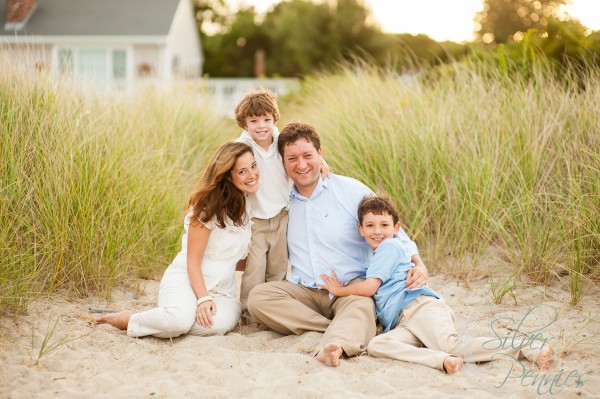 My husband, our sons (John, age 8 and Conor, age 5) and our little girl, Poppy (age 4).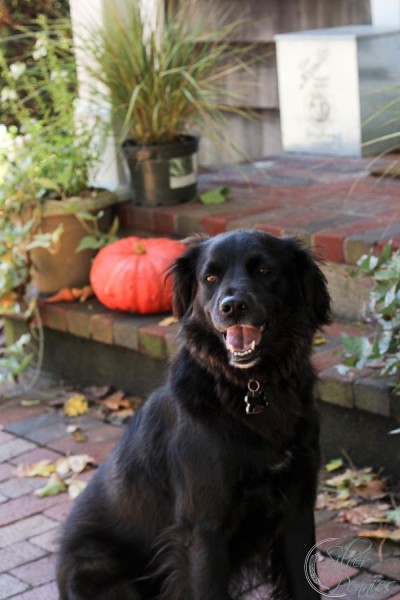 We live south of Boston in a little fishing town called Scituate. Our home is a 1927, dutch colonial. I have a love for historic homes and fell head over heels in love with our home when we first stepped inside.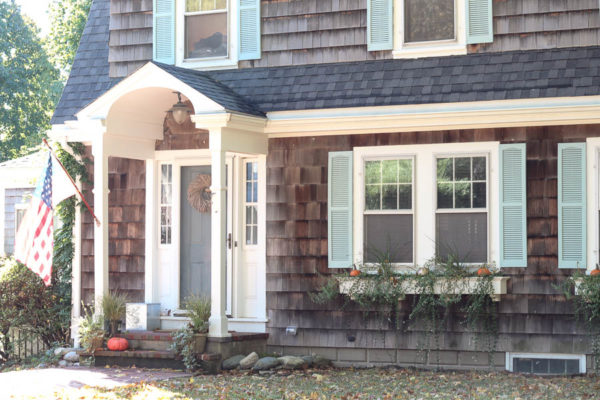 We moved here in May 2013! Step inside and take a look: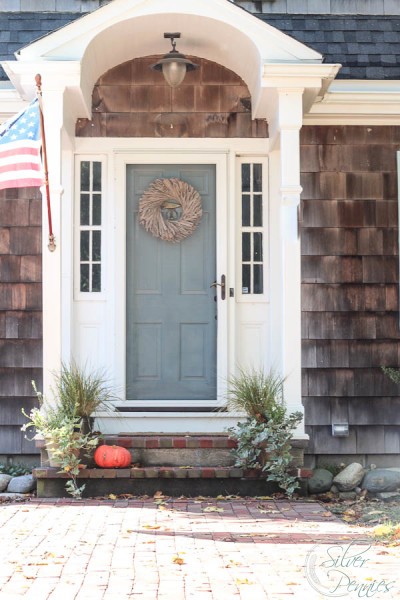 As soon as you walk through the door you come to our entry. One of the unique features of our home is the dark woodwork. It was milled in Maine in the 20s and adds so much warmth and character. I also love all the crystal door knobs.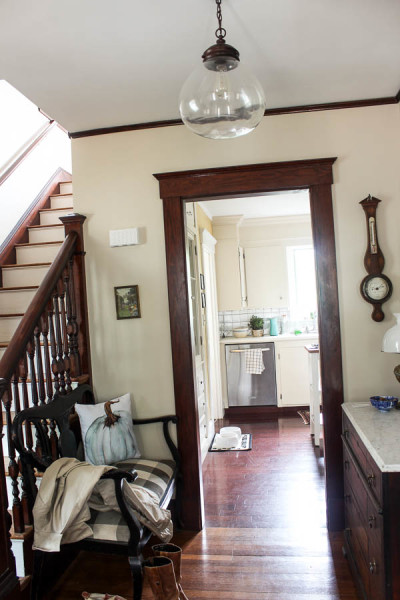 New and old elements are mixed together to welcome guests and make our house a home.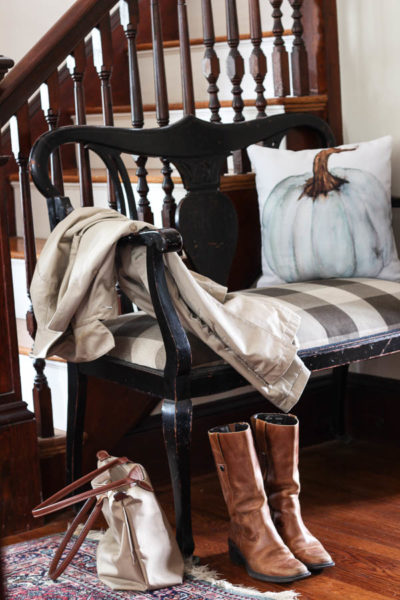 To the right of the entry is our long living room! I enjoy decorating our mantel each season.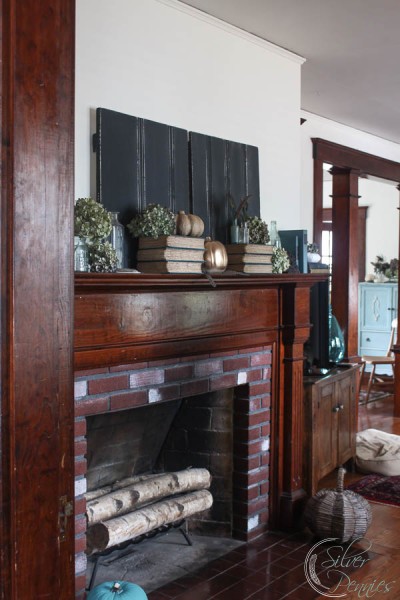 The boys and I had fun with this Halloween mantel. I'm so sad to take the bats down: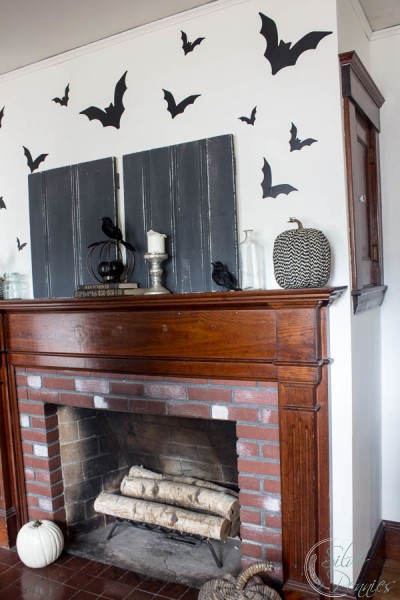 I recently antiqued the brick with Chalk Paint®.
I had been dreaming of a Chesterfield sofa and found the perfect one on Craigslist. Hooray!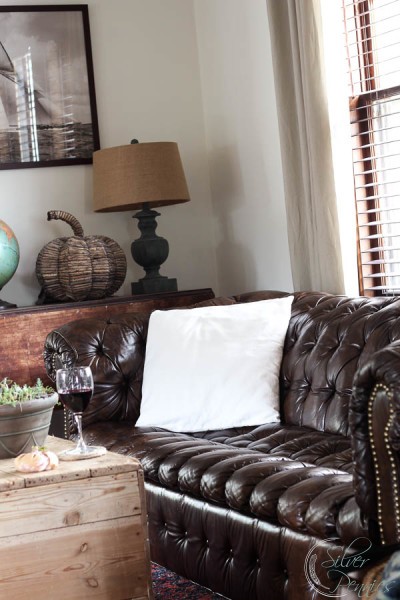 Our old pine table just got a little makeover with a little inspiration by Restoration Hardware.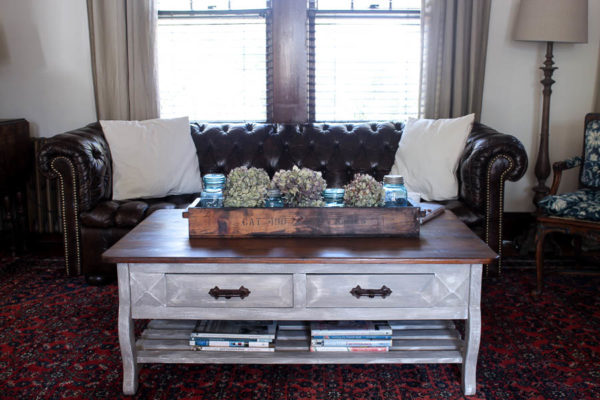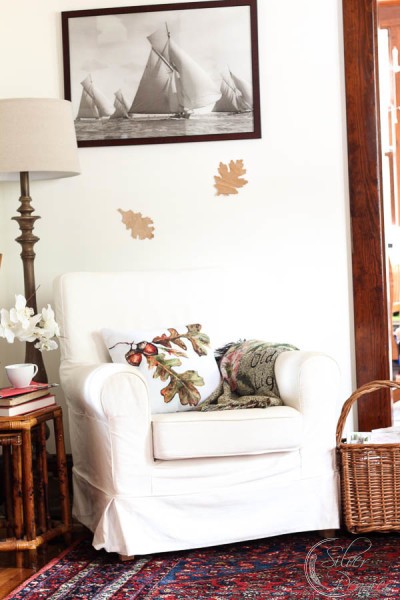 Through the columns is our dining room. It is the very first room we worked on in this home. The paint brush came out a lot in this room. We painted the walls a creamy, Mascarpone white by Benjamin Moore and also painted most of the furniture.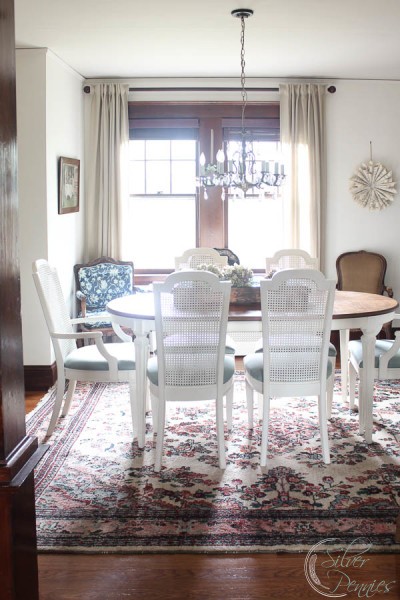 My favorite piece in this room is the chandelier: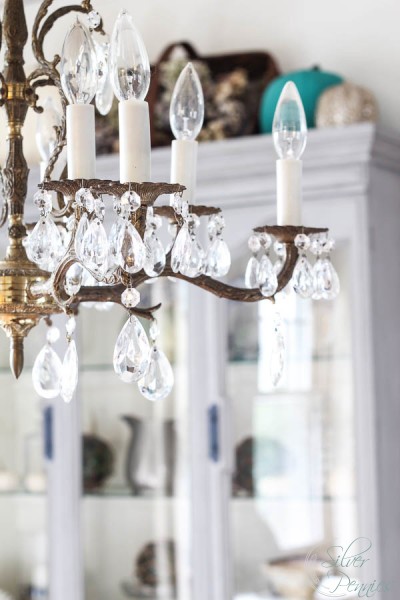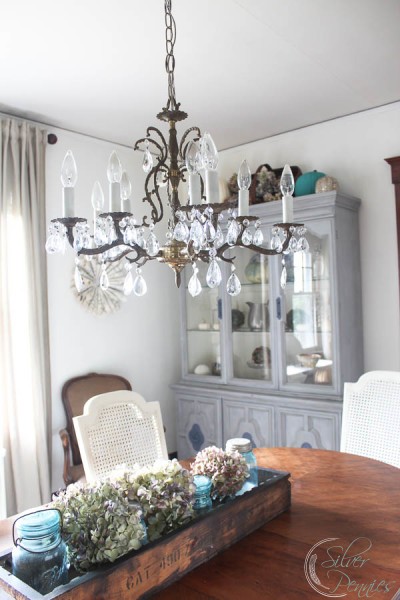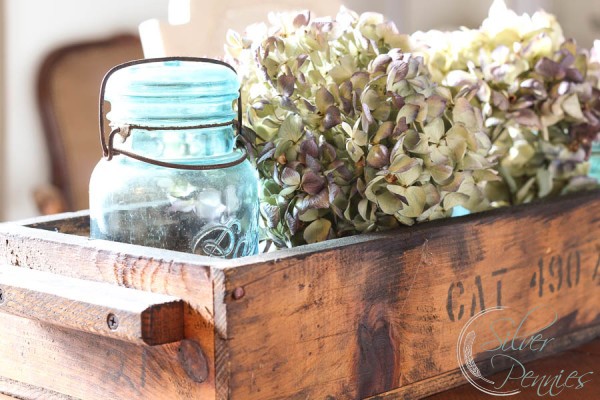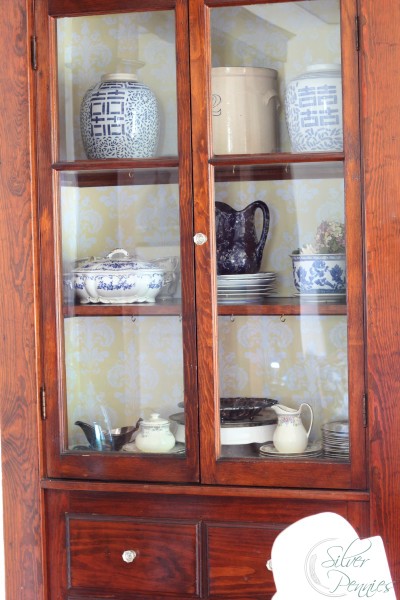 I enjoyed making this free printable for fall! Jane Austen is my favorite.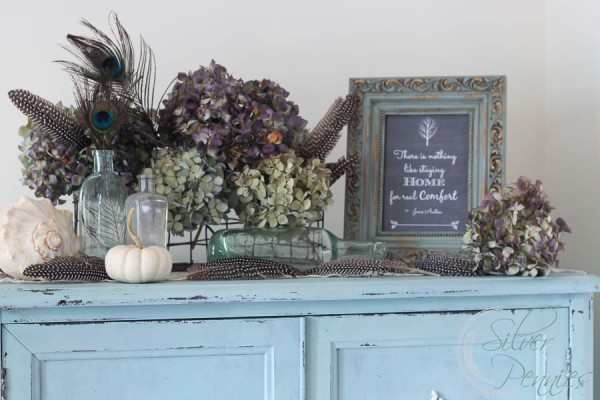 Through the french door is the boys' playroom. It is a little messy, but here is a little look: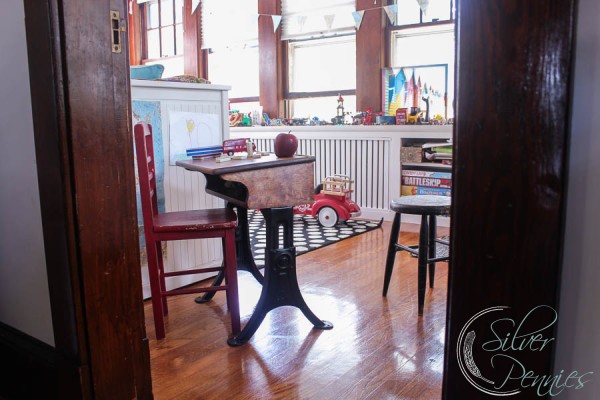 Through the other door is our kitchen. We have not tackled this room yet as we need to do a lot of work – new counters, paint and I'm dreaming of a subway tile backsplash.
Here's a little peek at how it looks currently.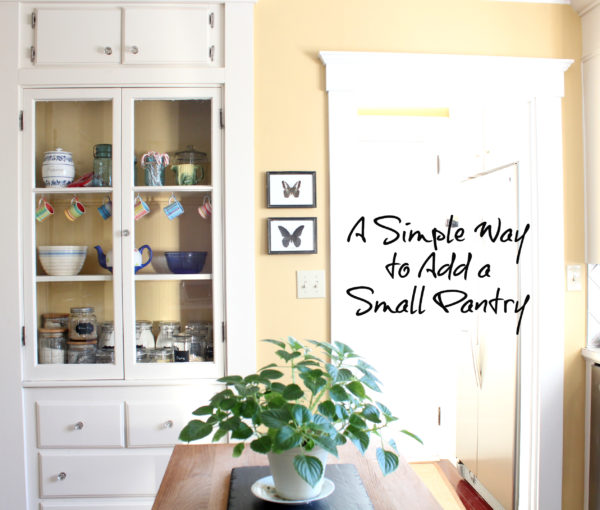 How to make a small pantry in a china cupboard.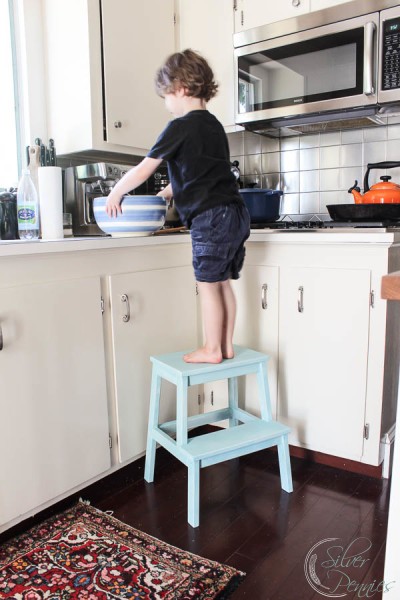 We love to bake. Here Conor is getting some help from an Ikea stool.
Through the back door you come to our sunroom. Our poor dog was sprayed by a skunk last March and we had to rip up the rug out there. We ended up redoing the whole room.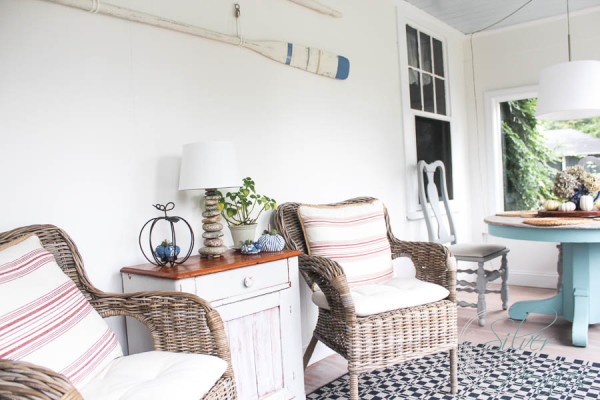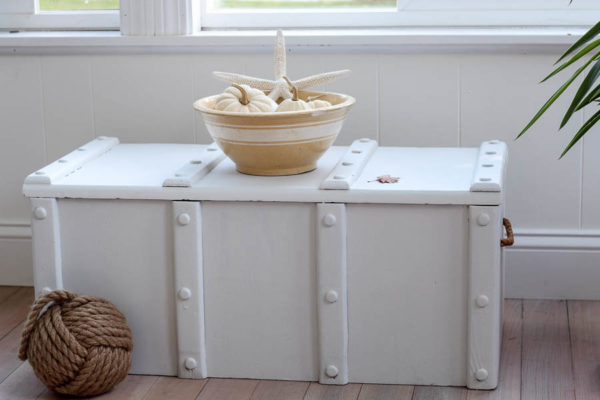 All the windows let the light in and also the salt air. But soon we'll have to stop using it (as it is only a three season room).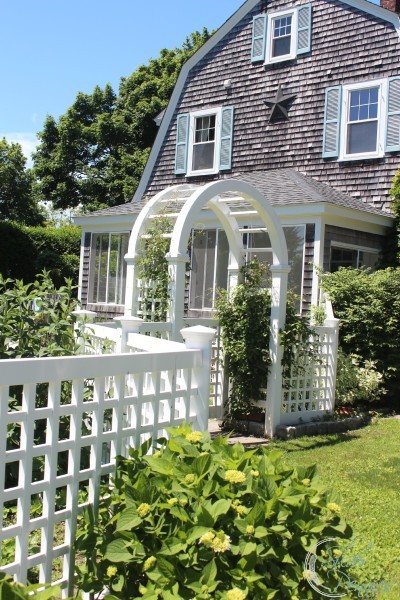 Let's go upstairs, shall we?!? The office is still a work in progress so we'll skip that!
Conor's room is looking sweet and perfect for a beach boy: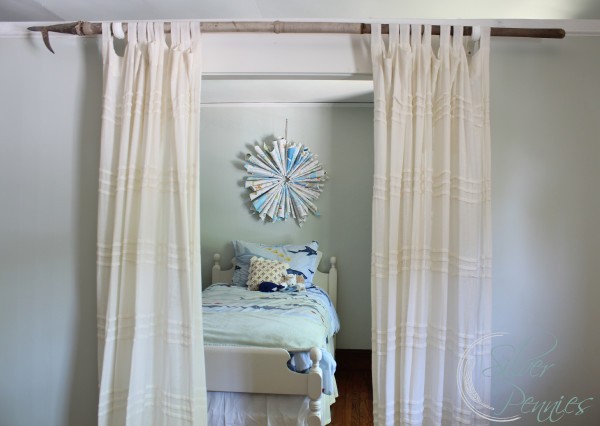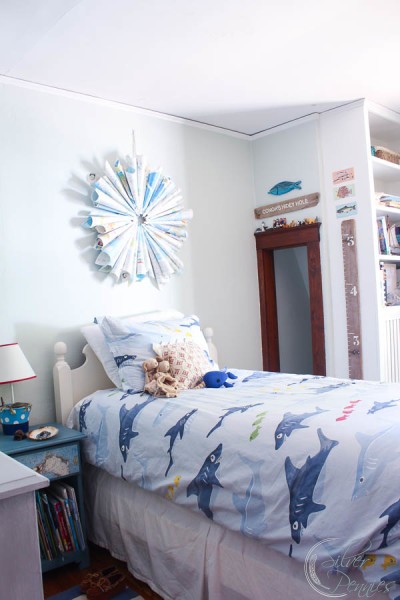 We've just finished our 'shabby chic' guest room and I'm loving how it came out! There's lots of soft linens and lace everywhere!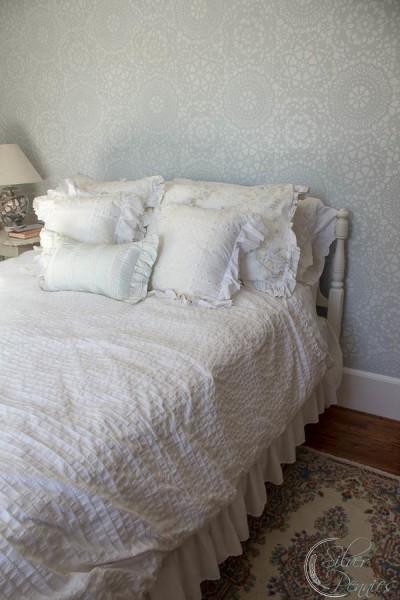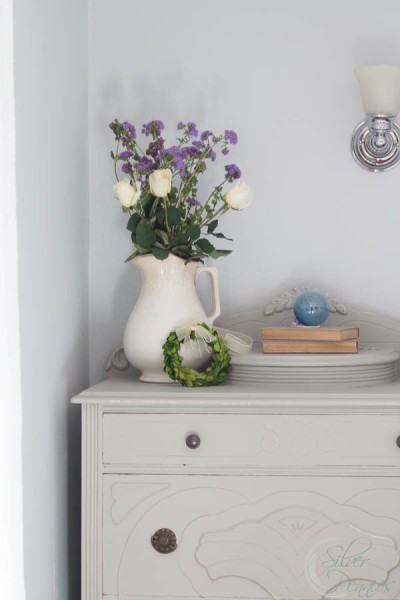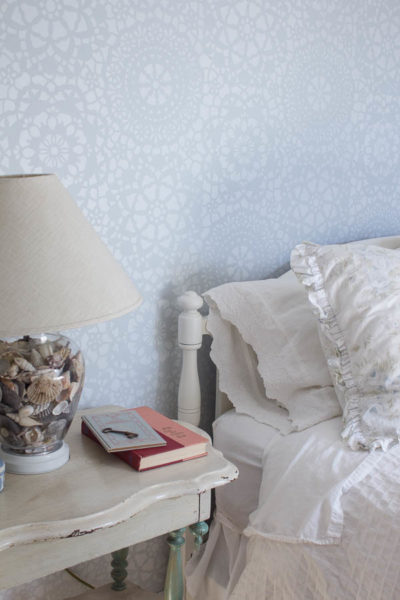 Our bedroom is the last one at the end of the long hallway. It is decorated simply, in sea glass colors.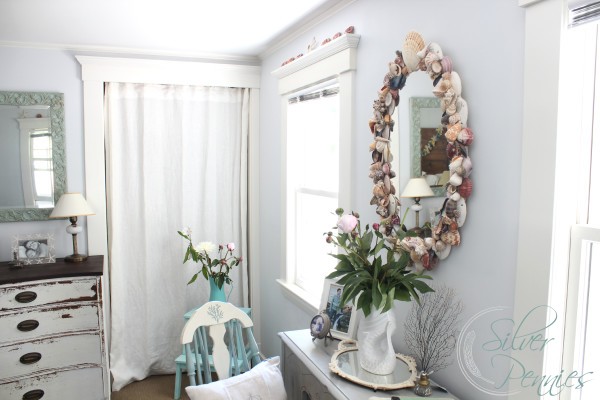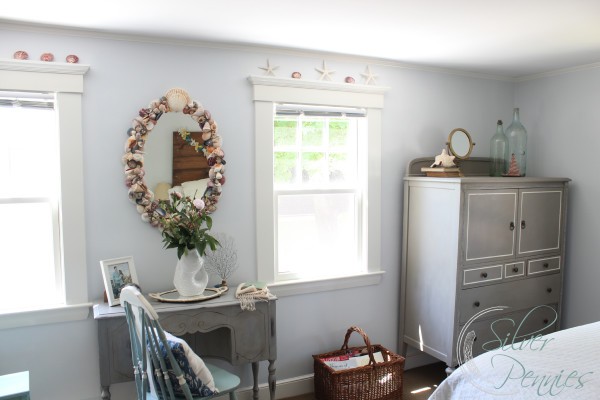 We're still loving our "reclaimed" wood headboard that we made in our last house: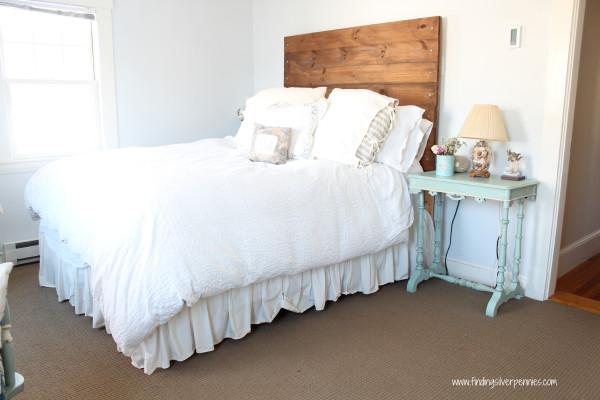 I so enjoyed sharing my little home by the sea with you! I'll be working on more projects and rooms and sharing all the details on my blog! Thanks so much, Jen, for having me!
Thank you Danielle for this AMAZING tour of your historic home. It feels so warm & inviting! I wish I could just drop by for coffee and sit in that sun room of yours.
If you like painting furniture & good DIY's then you will want to follow Danielle's BLOG. Have a beautiful week,