Strawberries & Cream Truffle Bites
I have a confession to make….
I am crazy for…..
chocolate, sweets, anything & everything
considered to be desserty.
I have always been this way, even as a child.
When I was little I was stick THIN, so I could get away with this.
"Stick thin" in an awkward way, not a cool way:).
But unfortunately, I grew out of that phase(darn) & now long for those days when I could eat ANYTHING & EVERYTHING I wanted….
Most of us struggle with wanting a little something sweet without feeling guilty, right?
Well if so, then you have to try this dessert.
Named Strawberries & Cream Truffle Bites,
because honestly it is a bite(or two, or three),
a taste(like how the French do it),
so you don't have to feel guilty for indulging your sweet
tooth.
And let me tell you this is GOOD stuff!
Here is the very easy recipe, promise.
The Truffle
I package of Ghirardelli Semi-Sweet Chocolate
1/4 package of Ghirardelli 60% Cacao
1/2 cup of whipping cream
4 eggs
1/2 cup sugar
1/4 cup of flour
pinch salt
1 teaspoon vanilla
1/2 cup butter
Preheat oven to 325
Cook chocolate & whipping cream in microwave for 1 minute.
Stir together & let cool for a few.
Add butter, eggs, sugar, flour, salt & vanilla.
Beat with whisk & pour into mini brownie tins.
Make sure you spray them first, I use Pam for baking.
Bake for 35 min.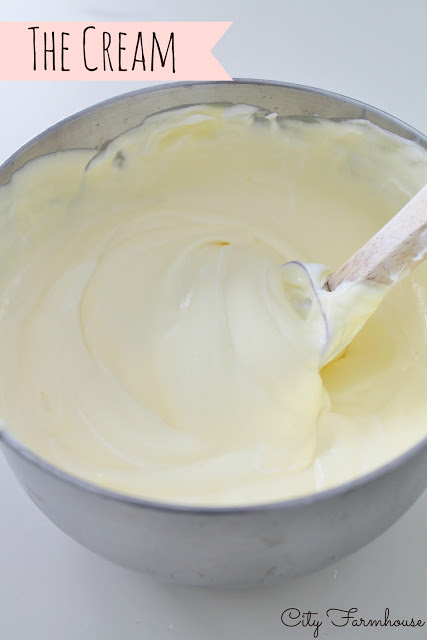 The Cream
1 cup cool whip
1 cup of prepared vanilla pudding
Stir together & chill
  The Strawberries
2 cups frozen or fresh strawberries
1/2 squeezed lemon
1/4 cup sugar
pinch salt
1 teaspoon cornstarch
Put strawberries in Cuisinart.
Pour into a  bowl & mix in lemon juice,
sugar, salt & cornstarch
Enjoy!
Indulging every once in a while, I think is a good thing:).
Have a wonderful & amazing weekend,