This annual event was held last night. It was my first year as a vendor & I was very happy to be there. We had 6 talented ladies selling there one of a kind creations, lots of great holiday gifts, savory foods and wine. It was a good
occasion
to get out and have a little fun. Our hostess Jenn did a fantastic job at setting a warm, festive mood in her beautiful home.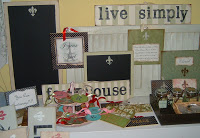 Live Simply, I still love this saying or should I say philosophy. A few new items for the holidays, signs with the phrase Joyeux Noel.
Monogram Ornaments
My mother started a holiday tradition when I was little of buying one for me every year and writing a little note with the date. So ornaments as simple as they are always had a significant meaning for me. So when I decided to design some for this event I wanted to create something pretty and meaningful.
Yummy! Jenn's soap, I wish you could smell them. Mistle Toe, Oatmeal Cranberry, Three Wise Men, Gingerbread, Amazing Grace…..They are such great gifts for the holiday & they make everything smell delicious.