So for a while now my husband & I have been house hunting. This house is in the village of
Sayville
, my husband commutes to NYC so it's a little closer. We still love where we live now,
Bellport
so we may end buying there.
But for now this is the house that has caught my eye.
I love this door, it's the original with the "Letter" pocket. As like staircases I adore doors. I like to think about all who have come and gone in it's over 100 year existance.
Ahhh, just beautiful!!!!
The details in this house are in amazing condition. Look at this door and the moldings. And who could overlook the original stunning glass knob.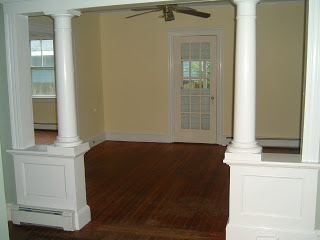 Floors definately need to be sanded, much needs to be done, but look at these columns.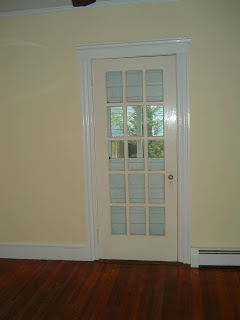 Again, original door with the skeleton key, probably not too safe but very cool!
Dining room, I can picture my table & chairs and big family dinners.
Ok, this is the problem area, it needs a little rearranging, lots of paint but what potential! I love how the frig always seems to just be hanging out all by it's lonesome in these old houses. Love the windows, not crazy about looking at someone else's A/C but…..