Style House September- Must Love Junk
I'm so honored that Jen has asked me to guest post
for her fantastic readers!  
 My name is Susan and I started my blog
must love junk
about 4 months ago. 
It has been a thrilling ride! 
A little about myself…
I've been married to the funnest man ever (is that a word?)
for 13 1/2 years,
 and we've lived in our 1929 Colonial home in Ohio for 7 years. 
 It's just us and our 2 fur babies (aka kitties.)
  My mom and I own a little recycled home goods shop
called 'Home Sweet Home'.
I am a passionate collector of  'junk' (good junk, I call it) and I absolutely love decorating and changing my home around often. 
 I guess my style is a mix of vintage, rustic, farmhouse, and industrial,
with a touch of whimsy thrown in! 
Here are a few pictures of my home…this is a little vignette in our front hall/entryway. 
 As you can tell, I'm crazy about typography! 
Anything with numbers and/or letters, has me hooked.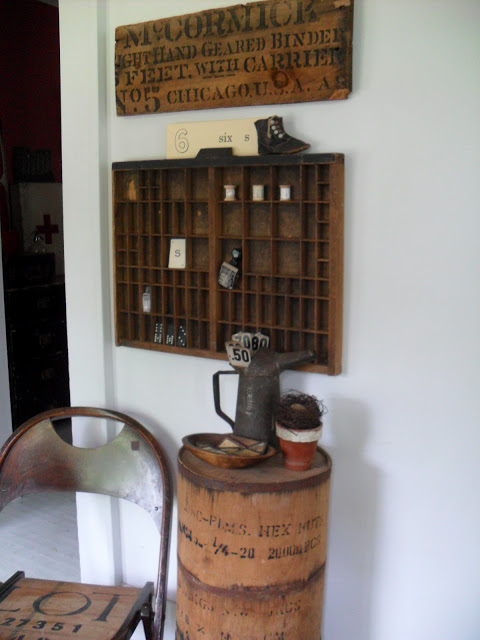 I've gone a little more industrial in our office space. 
 The bookshelves are such a great area to display my collections,
and they're fun to change around!
I started collecting vintage suitcases a few years ago,
 and this stack in our front hallway seems to be a favorite with my readers!
Our dining room is a marriage of farmhouse and rustic styles. 
It combines natural wood, my favorite color-green, and some black and white for drama.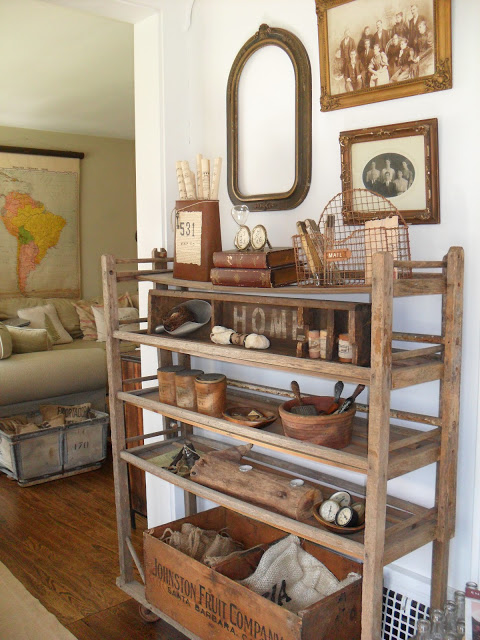 I'm mostly drawn to a neutral palette,
and sometimes I like to add a little green and/or red as an accent,
as I've done in our living room.
This is our tiny kitchen.
Although it's small, I've tried to give it a BIG personality !
That's just a sampling of my style…
On my
blog
you can see many more pictures of my home. 
 I'd love to hear from you! 
 Thanks for joining me,
and many thanks to Jen for featuring me!