Cucumber-Ginger-Lemon-Mint Water
I will be the first to admit with a busy schedule
sometimes I don't drink enough water,
especially in the summer!
How about you?
A few weeks ago my young, hip, cool & very fit niece
 told me about this water she had been making.
She is EXTREMELY healthy,
as for me, I try .
Some days it can get tricky:).
But I am always up to try a new healthy recipe.
This recipe is refreshing and tasty.
And it helps with digestion.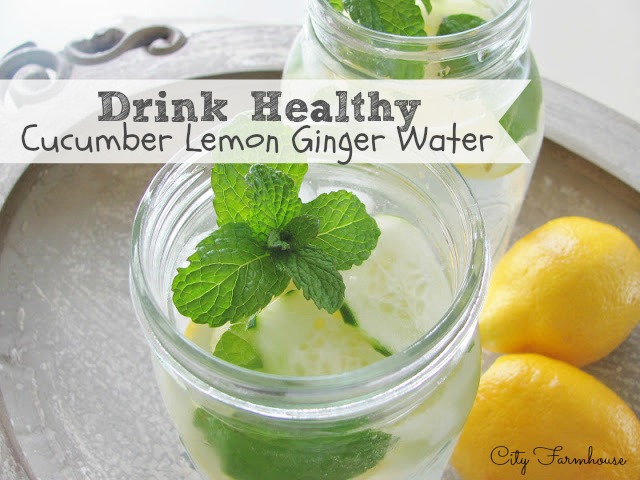 Cucumber Ginger Lemon Mint Water
Ingredients:
1 peeled Cucumber sliced
1 tsp peeled grated Ginger(optional)
1/2 cup mint leaves
1 lemon sliced
1 tsp lemon zest
1 gallon water
Directions:
Add ingredients to water.
Let stand in frig overnight & strain.
Be sure to refrigerate & drink within 2 days.
Tip:
The rest of the Ginger can be frozen until you make it again.
 Garnish & Enjoy!
  My new summer goal-
DRINK MORE WATER!
 This recipe is also perfect for summer entertaining.
Anytime we have a party or just a few friends,
this is something EVERYONE enjoys:)!
For more summer drink ideas check out my
PINTREST
Board.
Have a wonderful day!