Paint Splatter + Sharpie Wrapping Idea Using Ikea Paper
Hi friends! Happy Monday! I am back with the last official Christmas post from the Farmhouse Holiday Series-gift wrapping ideas using Ikea paper. It has been so much fun being a part of this fun & super creative series hosted by Ella Claire, I am surely going to miss it!
Today I am sharing an easy wrapping idea for just pennies that your kids can join in on. It's actually a little Ikea Hack. A while ago I bought their easel paper-Mala. I think I paid $3.99, which for the amount of paper they give is a steal. You could probably wrap for years with this roll:). I thought why not make wrapping paper out of it!
I made 2 variations with this paper. I used a sharpie and a ruler to create grid patterns and watercolors to make a paint splatter one. I then bought colorful ribbon at the craft store and tied it with a fun stitch ornament from Target that featured all woodland creatures.
First up was the sharpie ones. I used gold & black. The one below is a double grid, 2 lines together separated by a yard stick space and repeated all the way through on the bias. So I did one way, then the other. FYI, this paper fits the size of a shirt box.  I also did a simple grid above with a gold sharpie, this one I used a 2″ piece of wood I had in the basement to make a larger grid.
I wanted to try a paint splatter one and I LOVE how it turned out. I just took my watercolor, thinned it with water and flicked my brush with my finger. The color does smear ever so slightly when dry, just be aware. You could also try a watered down craft paint for this.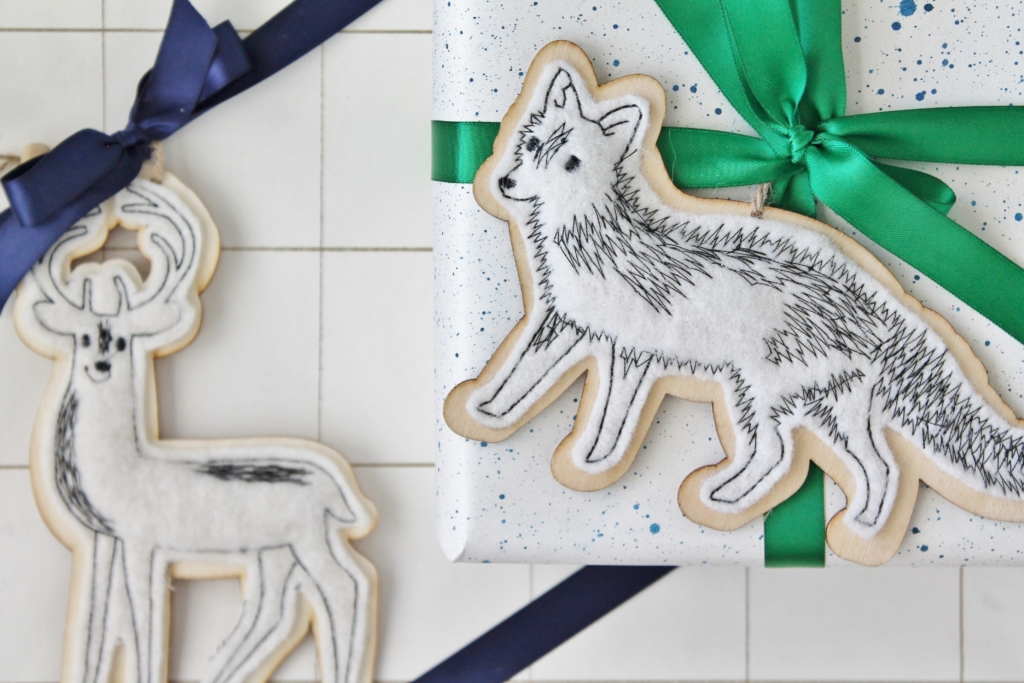 The ornaments add a nice touch, it was love at first sight when I saw them at Target.
I hope you will visit the posts below, the ideas are incredible, as always!

Ella Claire  |  Liz Marie Blog  |  Jeanne Oliver |  Shades of Blue Interiors
French Country Cottage  |  City Farmhouse  |  Dear Lillie  |  My Sweet Savannah
Kindred Vintage  |  Craftberry Bush  |  Jennifer Rizzo
Have a beautiful day!